Floor Plan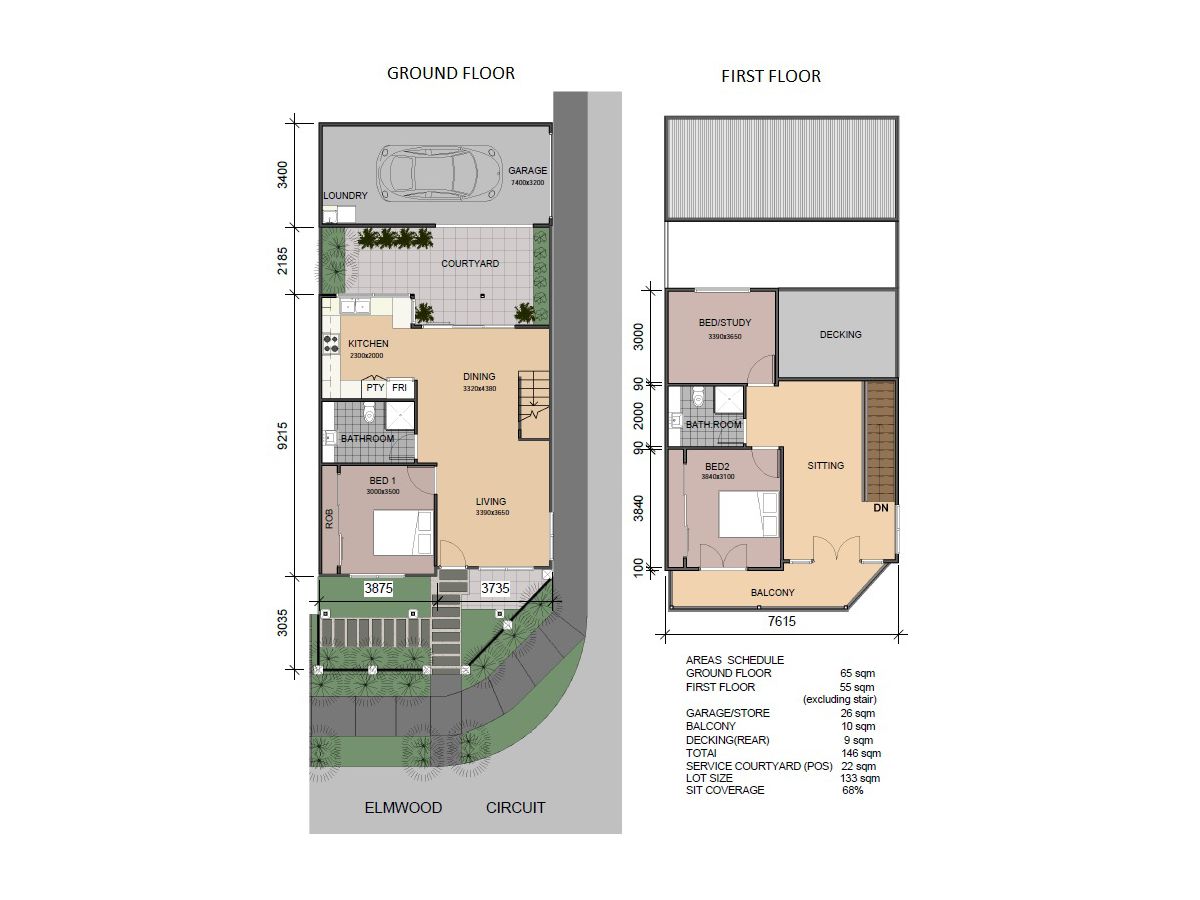 Elmwood offers a range of premium, stunning, brand new, double storey, modern townhouses designed to ultimately meet your individual tastes and aspirations. When you purchase a townhouse and land as part of a package you are making great savings on your build and fit-out costs PLUS if you buy 'off-the-plan' you can make great savings on the cost of stamp duty!
Elmwood House and Land Packages deliver sustainable, high quality value for money homes in a fully master planned community centrally located and with a fantastic list of nearby services.
Environmentally responsible design.
6 to 9 star energy rating ~ Enjoy a lifetime of low running costs.
Part of the Elmwood Precinct ~ Café, Medical Centre, Pharmacy and Pathology on site.
Close to public transport, hospital and the heart of Wodonga.
'Turn key' house and land packages ~ No progress payments.
Stand-alone titles ~ No Body Corporate fees.
Regional Winner - Best Multi Unit Development, Master Builders Association of NSW, 2013 Excellence in Regional Building Awards.
State Winner - Best Integrated Housing Development, Master Builders Victoria, 2013 Excellence in Housing Awards.
Lot 516 Elmwood Circuit Wodonga offers - 2 bedrooms plus study or 3rd bedroom, 2 living areas, 2 bathrooms, single car accommodation $495,000.
Mark I (The "Northern Terrace Townhouse") offers - 3 bedrooms, 2 bathrooms, open plan living area and double lock up garage - $552,000.
Mark II offers 3 bedrooms, 2 bathrooms, and double lock up garage - $725,000.
Make contact today to meet the developer and arrange an inspection of this prestigious estate.
NORTH SIDE ELMWOOD CIRCUIT MARK I STANDARD INCLUSIONS
When you purchase an Elmwood home, everything below is included in a fixed price contract. To ensure your individual tastes are met, fixture and color selections are made in consultation with local suppliers.
1. 3 bedroom townhouse, verandah, porch and double garage on a block of approx 178 square metres
2. Lightweight architectural cladding and brickwork construction throughout
3. Colorbond roof, fascia and gutter
4. 2700mm ceiling height ground floor, 2700mm upper floor
5. Double glazed windows throughout
6. Termite resistant frame to all walls and trusses
7. R5 insulation batts to ceiling space throughout, R2.5 insulation to external walls
8. Multihead Daikin split system airconditioning
9. Built-in robes with one column of shelves in bedrooms
10. Carpet and tile flooring from Elmwood range as per plan
11. Holland blind window furnishing throughout
12. Electric cooktop, electric multi function wall oven and dishwasher
13. Ceramic wall tiles to wet areas
14. Semi frameless shower screens
15. Ceramic hand basins
16. Dual flush cisterns
17. Electric boosted solar HWS
18. TV antenna with two outlets
19. One telephone outlet
20. "Alugard" front security door
21. Mains wired smoke alarm
22. Tiling to front verandah
23. Brick piers and metal fence to front boundary
24. Landscaping to front yard
25. Paraline at rear
26. Tesla Mark II Powerwall with 5kw PV system
Total price $552,000.00 (inc GST) E&OE
Brendon Collins 0417 237 680
NORTH SIDE ELMWOOD CIRCUIT MARK II STANDARD INCLUSIONS
When you purchase an Elmwood home, everything below is included in a fixed price contract. To ensure your individual tastes are met, fixture and color selections are made in consultation with local suppliers.
1. 3 bedroom townhouse, verandah, porch and double garage on a block of approx 229 square metres
2. Lightweight architectural cladding and brickwork construction throughout
3. Colorbond roof, fascia and gutter
4. 2700mm ceiling height ground floor, 2700mm upper floor
5. Double glazed windows throughout
6. Termite resistant frame to all walls and trusses
7. R5 insulation batts to ceiling space throughout, R2.5 insulation to external walls
8. Multihead Daikin split system airconditioning
9. Built-in robes with one column of shelves in bedrooms
10. Carpet and tile flooring from Elmwood range as per plan
11. Holland blind window furnishing throughout
12. Electric cooktop, electric multi function wall oven and dishwasher
13. Ceramic wall tiles to wet areas
14. Semi frameless shower screens
15. Ceramic hand basins
16. Dual flush cisterns
17. Electric boosted solar HWS
18. TV antenna with two outlets
19. One telephone outlet
20. "Alugard" front security door
21. Mains wired smoke alarm
22. Tiling to front verandah
23. Brick piers and metal fence to front boundary
24. Landscaping to front yard
25. Paraline at rear
26. Tesla Mark II Powerwall with 5kw PV system
Total price $725,000.00 (inc GST) E&OE
Brendon Collins 0417 237 680